Toy - Rag Doll - SNOW WHITE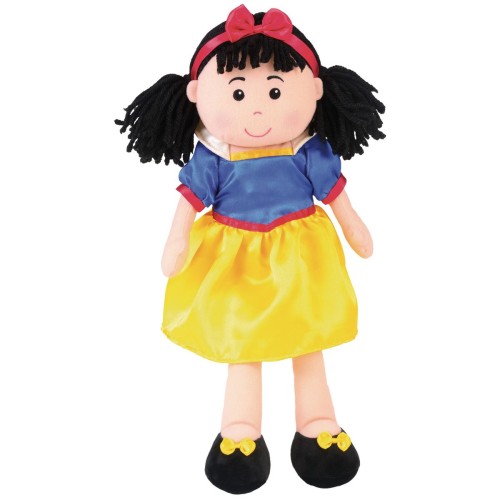 Everyone loves a fairytale, and this brand new fairy tale rag doll will certainly have children everywhere retelling the classic tale with the main character taking centre stage.
This fun, colourful and extremely well made rag doll will bring hours of pleasure to children while encouraging creative storytelling and role play with friends, siblings or individually. This hand made doll has been created with a huge amount of attention to detail.
From the woollen hair right down to the shoes, clothing and accessories, it's been made with soft, colourful and tactile fabrics to give a really plush feel, great for cuddles as well as playtime. It can sit up on its own – perfect for little tea parties or joining in at the dinner table. Its long, dangly legs will make storytelling more fun and the doll itself more durable. The doll is quite substantial in size, standing at 36 centimetres tall, and with a smiling, warm and friendly face, it's certain to be a firm favourite which will last an entire childhood.



Age: 18 months + (12 x 36 cm)